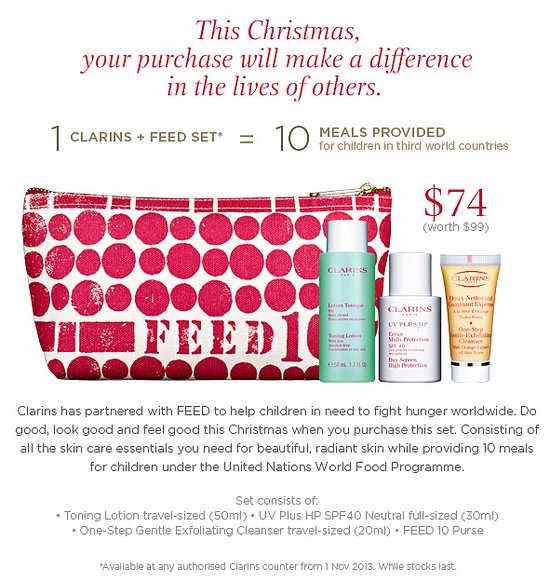 DO GOOD WITH YOUR PURCHASE
Clarins has joined forces with FEED to offer the beauty purse that cares for you and for children who are most in need.
Clarins is proud to partner with FEED to improve the lives of children in need and fight world hunger. Founded by Lauren Bush Lauren, FEED's mission is to "Create Good Products That Help FEED The World".
This purchase not only provides 10 school meals to children globally, it also invests in their futures.
FEED is famous for its burlap bag loved by fashionistas the world over. Every product sold has a measurable donation attached to it and, to date, the social business has been able to donate over $6 million and provide nearly 60 million school meals globally through the United Nations World Food Programme. FEED has also supported nutrition programmes around the world, providing vitamin supplements to over 3.5 million children through UNICEF. Clarins has been helping increase this number since 2011. United by their humanitarian and responsible values, the Clarins brand and FEED are today joining forces to offer you a beauty purse containing exceptional, skin-pampering products!
With its red spotted design, the FEED 10 purse is also an attractive fashion accessory. We hope you will continue to use it even when the products are finished, and tell others about this partnership of the heart. Talking about FEED is also a way to help fight child hunger across the world.
CLARINS & FEED: Helping to fight hunger
Partnership - FEED Partnership Clarins Beneficiary

FEED Partnership Christian Courtin Clarins
We're counting on you to spread the message!
The FEED 10 purse is very roomy and feels very durable, earning its place in your gym bag or your luggage to carry your essentials. In it, you get a full-sized UV Plus HP SPF40 sunscreen, a travel-sized exfoliating cleanser and a travel-sized toning lotion. 
Christmas is coming, so if you are looking for gift ideas, you should consider the Clarins + FEED set because it's for a truly meaningful cause. Clarins has put together other fab gift sets for Christmas and you can browse through them here. Get shopping!

DISCLAIMER: Products in this entry were sent to me by Clarins for consideration.  Information taken from press file. I wasn't paid to do this and I'm not affiliated to Clarins in any way. Opinions expressed here are my own